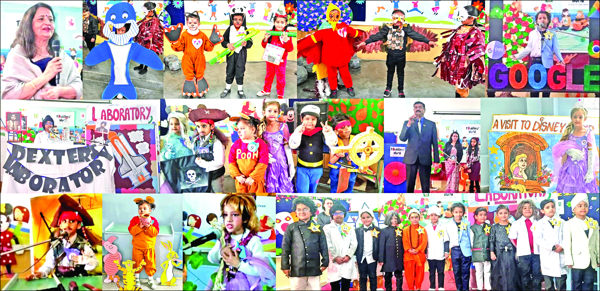 STATE TIMES NEWS
JAMMU: Toddlers' World of JK Public School Kunjwani, Jammu hosted Inter-school competition on November 18, 2022 and saw zealous participation from more than 11 prestigious schools of Jammu and Kathua.
It was a fusion of talent, imagination, creativity and alertness. The teachers and the students of different schools gathered to participate in different competitions titled 'The lost from the lost', Dexter's Laboratory and A visit to Disney Land. The participants prepared zealously and showcased their skills in their respective events. Their vivacity and brilliance reflected fully in their performances.
The event started with an encouraging speech from Rajesh Rathore, Principal JK Public School Kunjwani & President Jammu Sahodaya. He appreciated all the participating schools for availing the wonderful opportunity, created by the host school. He lauded children for mesmerizing the audience with their impressive turn out, confidence level & vivacity.
Under the guidance of Shivangani Pandotra (Coordinator Toddlers' World) the programme was able to inculcate integrated learning, amalgamated with different aspects of the world, which captivated one and all. Shashi Choudhary (Director JKPS) appreciated all the participants and spoke about an unlimited potential in every individual that can be honed at every opportunity and at every stage.
A two-hour competition was concluded with a vote of thanks. The programme was appreciated by the guests.
First Prize-Sadaf Fatima Abraham (IDPS, Jammu), Adhira Choudhary (Jammu Sanskriti School Jammu) and Anhad Preet Singh (IDPS, Jammu. )
Second Prize-Ayaan Sharma (Jodhamal Public School, Jammu), Avya Jain (Army Public School Kaluchak), Urwa Ibtihaj (Toddlers' World, Kunjwani) and Sargam Andotra (Jammu Sanskriti School, Kathua)
Third Prize-Vedanshi ( Stephen's International Public School, Jammu), Ruaansh Abrol (KC International School, Jammu) and Manvi Sharma (Toddlers' World Kunjwani)
Consolation Prize: Manya Dhiman (Shaurya International School Jammu) and Kriyaj (Toddlers' World, Kunjwani).
Appreciation certificates were given to all the participants. Merit certificates and trophies were given to the winners. The event turned out to be a grand success.