JAMMU: The Bhartiya Janta Yuva Morcha (#BJYM) on Thursday launched '#Young #India #run' in connection with the birth anniversary of Swami #Vivekananda and appealed to the youth of #JammuandKashmir to re-dedicate themselves on national youth day to build a self-reliant, prosperous and capable India.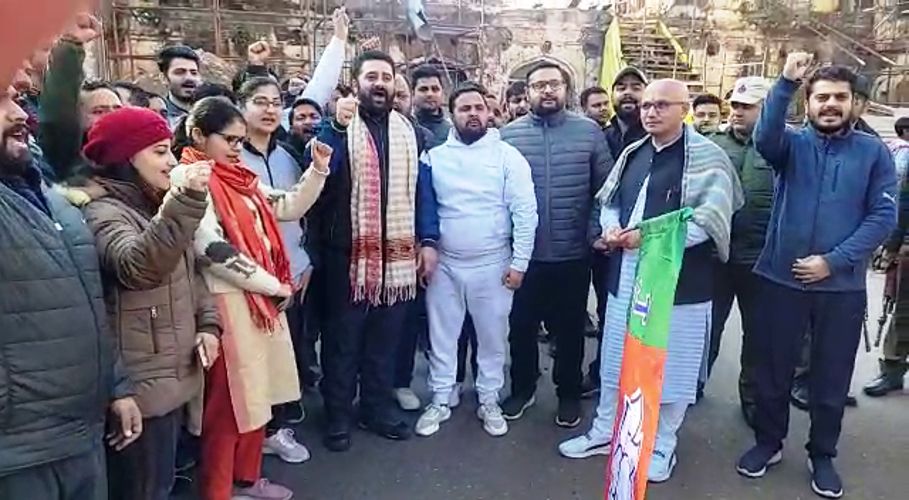 Mayor #JMC #RajinderSharma today flagged off #marathon 'Young India run' in connection with the birth anniversary of Swami Vivekananda ji, which is being celebrated as #NationalYouthDay in Jammu.
Talking to media persons, Mayor JMC Rajinder Sharma, while terming the Swami Vivekananda as maker of modern India, said that in order to inspire youths of country towards philosophy of Swami Vivekananda, his birthday is commemorated as National Youth Day.
He appealed to the youth of Jammu and Kashmir to re-dedicate themselves on National Youth Day to build a self-reliant, prosperous and capable India.
Swami Vivekananda was a great person who always believed in youth power to nourish #culture of #country and carry advancement required by country to be developed, he said.
He said that Prime Minister #NarendraModi has termed Swami ji as his ideal for numerous schemes he has launched for welfare of youth like skill India and emphasised that youth of nation should be empowered so that in place of looking jobs they must provide job to others as successful entrepreneurs.
Sharma said that Swami Vivekananda was a Hindu monk and one of the India's greatest leaders who believed in empowering youth.
He highlighted the contribution of the great leader Swami Vivekananda and suggested students to follow the path of peace and truth.
He further said that PM Modi is working on the vision of Swami Vivekananda to make India as Vishav Guru.
He prompted all the youths to pledge for working sincerely towards the betterment of the society and the nation.
Youths are the most important part of the country who leads the country ahead, that's why youths are selected to be inspired first by the ideas and ideals of the Swami Vivekananda to shape their future in positive way, he added.
State President BJYM Arun Prabhat said that every year BJYM activists celebrate the National youth Day with great enthusiasm as it is the great way to wake up the eternal energy of the youths as well as their big efforts to make the country developed.
"Philosophies, teachings and ideas of the Swami Vivekananda are the great cultural and traditional assets of India and the youth need to follow their footsteps into the everyday life for the greater goal of life," he said.
Prabhat recalled how Swami Vivekananda, in his short life span, with his universal spirituality, practical wisdom and magnetic personality, galvanised the youth of the country with a sense of self-respect and a sense of destiny for Bharat as the world leader. (PTI)