No tax on income up to Rs 7 lakh, standard deduction allowed under new tax regime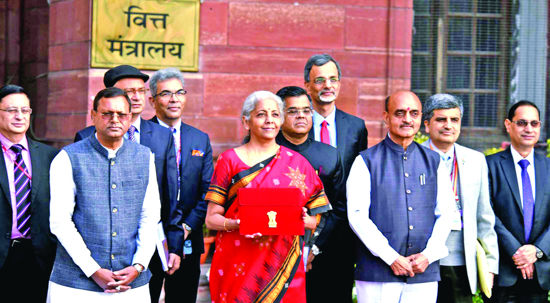 STATE TIMES NEWS
New Delhi: Finance Minister Nirmala Sitharaman's Budget speech on Wednesday was marked by the usual thumping of benches by the ruling alliance members, but the loudest cheer was reserved for her announcement of income tax relief, which was welcomed by "Modi, Modi" chants in Lok Sabha that also witnessed a few instances of protest by the Opposition.
Income Tax payers:
* No changes in the old tax regime
* New tax regime to become the default tax regime. However, citizens can opt for the old tax regime.
* No tax on income up to Rs 7.5 lakh a year in new tax regime (with inclusion of standard deduction)
* Govt proposes to reduce highest surcharge rate from 37% to 25% in new tax regime
New Income Tax Slabs Under New Tax Regimes:
* Rs 0-3 lakh: Nil
* Rs 3-6 lakhs: 5%
* Rs 6-9 lakhs: 10%
* Rs 9-12 lakhs: 15%
* Rs 12-15 lakhs: 20%
* Rs Over 15 lakhs: 30%
Sitharaman's follow-up statement that the tax relief will only be available to those opting for the new regime might have dampened spirits, but another round of applause from the treasury benches came when she announced a massive 33 per cent hike in the capital expenditure to Rs 10 lakh crore.
The treasury benches frequently broke into chants of "Modi Modi".
The Finance Minister tweaked the slabs to provide some relief to the middle class by announcing that no tax would be levied on annual income of up to Rs 7 lakh under the new tax regime.
She also allowed a Rs 50,000 standard deduction to taxpayers under the new regime, where assessees cannot claim deductions or exemptions on their investments. She also tweaked the concessional tax regime, which was originally introduced in 2020-21, by hiking the tax exemption limit by Rs 50,000 to Rs 3 lakh and reducing the number of slabs to five.
In the Budget for 2023-24, Sitharaman said currently individuals with total income of up to Rs 5 lakh do not pay any tax due to rebate under both the old and new regimes.
"It is proposed to increase the rebate for the resident individual under the new regime so that they do not pay tax if their total income is up to Rs 7 lakh," Sitharaman said.
She further said under the new personal income tax regime, the number of slabs would be reduced to five.
"I propose to change the tax structure in this regime by reducing the number of slabs to five and increasing the tax exemption limit to Rs 3 lakh," Sitharaman said.
Under the revamped concessional tax regime, no tax would be levied for income up to Rs 3 lakh. Income between Rs 3-6 lakh would be taxed at 5 per cent; Rs 6-9 lakh at 10 per cent, Rs 9-12 lakh at 15 per cent, Rs 12-15 lakh at 20 per cent and income of Rs 15 lakh and above will be taxed at 30 per cent.
"I propose to extend the benefit of standard deduction to the new tax regime. Each salaried person with an income of Rs 15.5 lakh or more will thus stand to benefit by Rs 52,500," Sitharaman said
The government in Budget 2020-21 brought in an optional income tax regime, under which individuals and Hindu Undivided Families (HUFs) were to be taxed at lower rates if they did not avail specified exemptions and deductions, like house rent allowance (HRA), interest on home loan, investments made under Section 80C, 80D and 80CCD. Under this, total income up to Rs 2.5 lakh was tax exempt.
Currently, a 5 per cent tax is levied on total income between Rs 2.5 lakh and Rs 5 lakh, 10 per cent on Rs 5 lakh to Rs 7.5 lakh, 15 per cent on Rs 7.5 lakh to Rs 10 lakh, 20 per cent on Rs 10 lakh to Rs 12.5 lakh, 25 per cent on Rs 12.5 lakh to Rs 15 lakh, and 30 per cent on above Rs 15 lakh.
The scheme, however, has not gained traction as in several cases it resulted in higher tax burden.
With effect from April 1, these slabs will be modified as per the Budget announcement.
Sitharaman's fifth straight Budget comes at a time when the economy is slowing due to global headwinds and there is a need for increased spending on social sectors as well as ramping up incentives for local manufacturing.
She also announced customs duty relief on mobile phone components, as well as on capital goods for lithium batteries and other such items to boost green energy and exports.
This is the final full Budget before the general elections in April/May next year. An interim budget, called vote on account, is to be presented in February next year and the new government will present the full Budget sometime in July 2024.
For 2023-24, the capital investment outlay has been increased steeply for the third year in a row by 33 per cent to Rs 10 lakh crore, which would be 3.3 per cent of the GDP. This will be almost three times the outlay in 2019-20. Also, the outlay for affordable housing has been increased by a massive 66 per cent to Rs 79,000 crore.
"This is a Budget which has beautifully balanced both growth considerations because the capital investment has never before seen double digit investment announcements of Rs 10 lakh crore which includes Rs 1.3 lakh crore being given to states," Sitharaman said at a post-Budget press conference.
Since coming to power in 2014, the Prime Minister Narendra Modi-led government has ramped up capital spending, including on roads and energy, while wooing investors through lower tax rates and labour reforms, and offering subsidies to poor households to clinch their political support.
"This Budget hopes to build on the foundation laid in the previous Budget, and the blueprint drawn for India@100," Sitharaman said in her Budget speech in Lok Sabha.
The Indian economy, she said, is a "bright star" with the current 7 per cent GDP growth being the highest among all major economies.
Sitharaman said that despite a global slowdown because of the COVID-19 pandemic and the Russia-Ukraine war, the Indian economy is "on the right track".
Total expenditure is seen rising 7.4 per cent to Rs 45 lakh crore. The government would target a budget deficit of 5.9 per cent of GDP in 2023-24, down from 6.4 per cent for the current year. That would entail a gross borrowing of Rs 15.43 lakh crore.
Sitharaman said the Budget for 2023-24 (April 2023 to March 2024), adopts seven priorities — inclusive development, reaching the last mile, infrastructure and investment, unleashing the potential, green growth, youth power and financial sector.
While the agriculture credit target has been increased to Rs 20 lakh crore with focus on animal husbandry, dairy and fisheries, the increased investment in infrastructure and productive capacity is aimed at having a multiplier impact on growth and employment.
Additional Rs 9,000 crore has been provided toward credit guarantee for medium and small enterprises.
Railways has been provided a capital outlay of Rs 2.40 lakh crore — the highest ever and about 9 times the outlay made in 2013-14.
An Urban Infrastructure Development Fund (UIDF) will be established for the creation of urban infrastructure in tier 2 and 3 cities.
The Budget has also provided Rs 35,000 crore for energy transition and Net Zero objectives.
Battery Energy Storage Systems with capacity of 4,000 MwH will be supported with viability gap funding, and Rs 20,700 crore will be spent in building a transmission system to evacuate 13 GW renewable energy from Ladakh.
The outlay for the affordable housing scheme, PM Awas Yojana, has been increased 66 per cent to Rs 79,000 crore.
Other highlights of the Budget include reviving 50 additional airports, heliports and water aerodromes, and establishing a National Digital Library to make available quality books across languages, geographies and genres.
The income tax relief provided for individual taxpayers would mean a 25 per cent reduction in tax outgo of an individual with an annual income of Rs 9 lakh as he or she would be required to pay only Rs 45,000 as against Rs 60,000.
Similarly, an individual with an income of Rs 15 lakh would be required to pay only Rs 1.5 lakh or 10 per cent of his or her income as tax, a reduction of 20 per cent from the existing liability of Rs 1,87,500, Sitharaman said.
"The personal income tax has had substantial changes (in the Budget) which will benefit the middle class," Sitharaman said at the post-Budget press conference. "The ultimate interest is to make the simpler (new) regime more attractive."
Congress members welcomed their former president Rahul Gandhi with the slogan of 'Jodo, Jodo, Bharat Jodo' when he entered Lok Sabha a few minutes after Sitharaman had started her speech.
Some Opposition voices also shouted "Adani Adani", a reference to the controversy following an adverse report from a short-selling firm against the corporate czar's conglomerate.
Many ministers, some tightly squeezed into their seats to accommodate others as the ruling alliance members were present in the full strength, and a few Opposition members were seen making notes during the speech.
If Gandhi was a few minutes late, actor-turned-politician Shatrughan Sinha, now a Trinamool Congress MP, arrived over 50 minutes later.
The one opposition member who rose a few times to lodge protest was Adhir Ranjan Chowdhury, the Leader of the Congress in the House. However, his lone voice was often drowned out by the treasure benches as the finance minister continued her speech.
The Lok Sabha chamber witnessed camaraderie before the House assembled for the day with National Conference members Farooq Abdullah and Hasnain Masoodi having a chat with Home Minister Amit Shah.
Sitharaman was wearing a red Pochampally saree with a black border, a weave of Telangana, with kasuti embroidery which is a speciality of Karnataka, the state she represents in the Rajya Sabha.
She was welcomed with a huge round of applause by the treasury benches and was seen taking out her tablet PC from the red coloured bahi-khata pouch with a golden coloured national emblem on it.
Prime Minister Narendra Modi walked in shortly before 11:00 am, welcomed by the chants of 'Bharat Mata ki Jai'.
Soon after, Congress Parliamentary Party chief Sonia Gandhi, draped in a black saree with pink border, walked in the House with deputy leader Gaurav Gogoi in tow.
A bearded Rahul Gandhi entered the Lok Sabha with Congress members chanting Jodo, Jodo, Bharat Jodo' after Sitharaman.
The Congress members' action left several ministers and BJP members visibly irritated, but Sitharaman continued with her speech calmly.
Trinamool Congress members, who leave no opportunity to take potshots at the government, were unusually quiet throughout the presentation of the Budget, except for a stray remark from veteran member Saugata Ray.
The Prime Minister was seen thumping his desk when Sithraman referred to millets as 'Shri Anna'. However, the opposition members were amused at the reference and a section likened it to 'Anna' (elder brother).
Sitharaman's announcement of allocation of Rs 5,300 crore to the Upper Bhadra project in Karnataka was described as a sop for the state where elections are due in May.
The announcement of building 50 new regional airports had the opposition breaking into chants of Adani, Adani', an apparent reference to the Adani Group which had won the mandate to operate seven of the eight airports leased by the Airports Authority of India.
Congress leader Adhir Ranjan Chowdhury asked loudly if the government plans to reduce the prices of petroleum products, when the Finance Minister mentioned the Green Hydrogen Mission.
NCP member Srinivas Patil was seen clicking pictures of the Treasury Benches inside Lok Sabha.
The prime minister walked up to Sitharaman to congratulate her after she presented the Budget. The Finance Minister was surrounded by her ministerial colleagues as well as some members of the Opposition.
Sitharaman's daughter and relatives were present in the Speaker's Gallery of Lok Sabha during the Budget presentation.
Several Rajya Sabha members, including Deputy Chairman Harivansh, BJP member Dhananjay Mahadik, Congress member Amee Yagnik were present in the gallery meant for members of the Upper House.