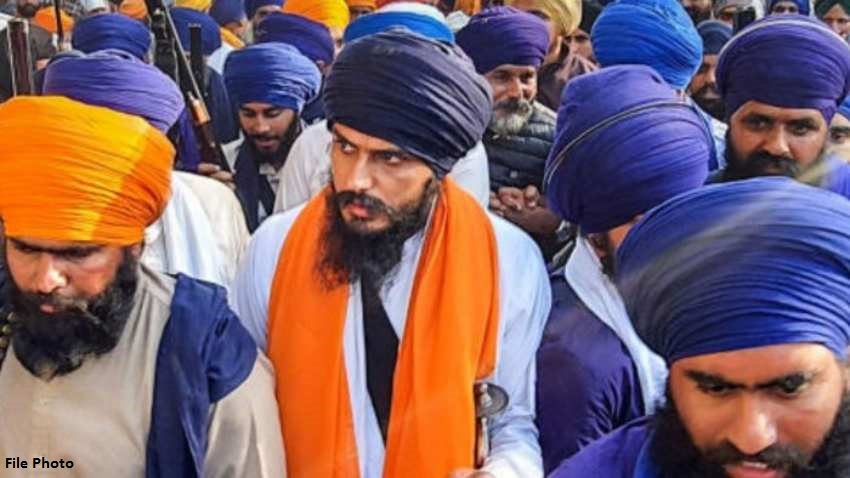 CHANDIGARH: The Punjab government on Saturday launched a major crackdown against radical Sikh preacher and Khalistan sympathiser Amritpal Singh, with police arresting 78 members of an outfit headed by him, officials said.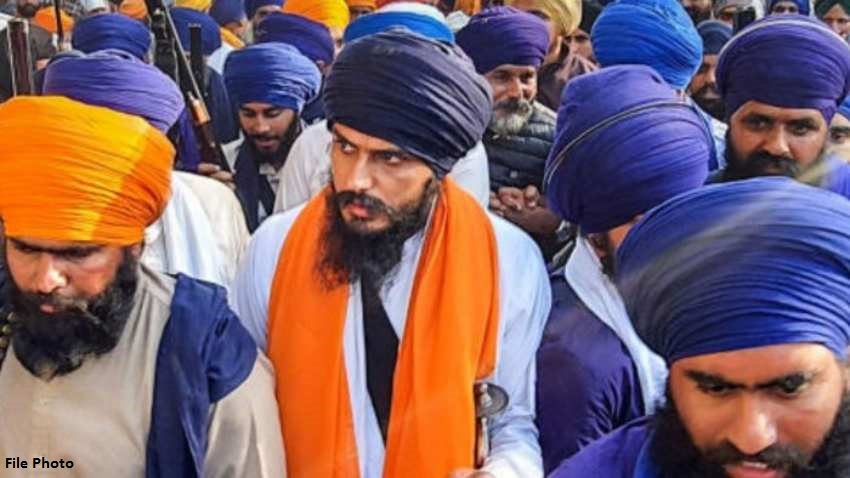 The elusive preacher himself, however, gave the police a slip and escaped their dragnet when his cavalcade was intercepted in Jalandhar district, even as authorities stepped up security at several places and suspended internet services in the state till Sunday noon.
The police said it has launched a "massive state-wide cordon and search operations (CASO)" in the state against elements of 'Waris Punjab De' (WPD), headed by Singh, against whom several criminal cases had been registered.
During the operation, a total of 78 persons have been arrested so far, while, several others have been detained for questioning, it said.
Amritpal Singh and others are on the run and a massive manhunt has been launched to nab them, a police spokesperson said.
Some supporters of 'Waris Punjab De' chief shared some videos on social media claiming that policemen were chasing them. A video also showed Amritpal sitting in a vehicle and one of his aides could be heard saying policemen were after "Bhai saab" (Amritpal).
During the state-wide operation, nine weapons, including one .315 bore rifle, seven rifles of 12 bore, one revolver and 373 live cartridges of different caliber have been recovered so far, the police said.
The police spokesperson informed that the WPD elements are involved in four criminal cases relating to spreading disharmony among classes, attempt to murder, attack on police personnel and creating obstructions in the lawful discharge of duties of public servants.
An FIR dated February 24 stands registered against WPD elements for the attack on Ajnala Police Station, he added. Last month, Amritpal and his supporters, some of them brandishing swords and guns, broke through barricades and barged into the Ajnala Police Station on the outskirts of the Amritsar city, and clashed with police for the release of one of Amritpal's aide. After the incident, in which six policemen including a Superintendent of Police rank officer had suffered injuries, the AAP government in the state had faced severe flak and was accused of kowtowing to extremists.
A heavy deployment of security forces had been made near village Jallupur Khera in Amritsar, the native place of Amritpal Singh, for the operation.
Dubai-returned Amritpal Singh was last year anointed the head of 'Waris Punjab De', which was founded by actor and activist Deep Sidhu who died in a road accident in February last year.
Officials said Amritpal Singh has been maintaining close links with Pakistani intelligence agency ISI and terrorist groups based in foreign countries.
Amitpal Singh, who had even issued a veiled threat to Union Home Minister Amit Shah, has been trying to destabilise the situation in Punjab by indoctrinating and attracting Sikh youths into the fold of his outfit 'Waris Punjab De', sources said.
Meanwhile, Punjab Police asked people to maintain peace and harmony.
"Request all citizens to maintain peace & harmony Punjab Police is working to maintain Law and Order. Request citizens not to panic or spread fake news or hate speech," it said in a tweet.
Earlier this month, Punjab Chief Minister Bhagwant Mann had called on Union Home Minister Amit Shah and discussed with him the prevailing law and order situation in the border state.
The Centre had sent about 1,900 personnel of the CRPF and its specialised anti-riot unit RAF for strengthening the security grid.
Officials said the Union Home Ministry is "closely monitoring" the situation in Punjab in the wake of renewed activities of some Khalistani supporters.
The radical preacher is believed to be a close associate of UK-based Khalistani terrorist Avtar Singh Khanda, who is the person behind his meteoric rise, they said.
Khanda is a trusted lieutenant of the banned group Babbar Khalsa International's leader Paramjit Singh Pamma, who is involved in radicalising Sikh youths. The trio has been aiming to destabilising Punjab by ideologically indoctrinating Sikh youths with extremist views, they said.
In February this year, a man complained at Ajnala Police Station alleging he had been kidnapped and beaten by the associates of the radical preacher. An FIR was registered against Amritpal Singh and six of his associates. Police later arrested one Lovepreet Singh Toofan, a close associate of Amritpal, in the matter.
The arrest of Toofan prompted Amritpal to issue a warning to the police to revoke the case against him, and the matter turned ugly when hundreds of his supporters broke through police barricades and stormed the police complex, armed with automatic guns and sharp weapons.
Toofan was released under pressure but only after the police informed the court that they would be investigating the matter further. (PTI)