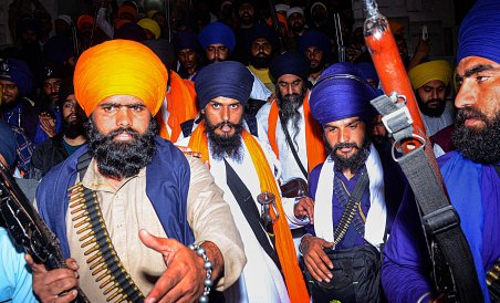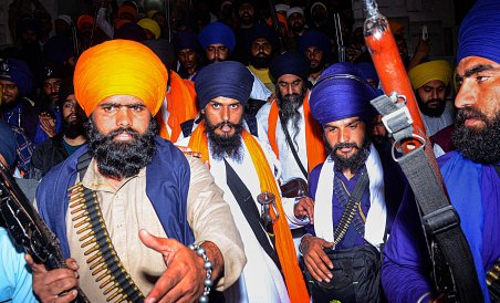 STATE TIMES NEWS
Chandigarh: Police on Sunday conducted flag marches and searches across Punjab in their manhunt for radical preacher Amritpal Singh, arresting 34 more supporters and shifting four men in custody to a jail in far-off Assam.
The Punjab and Haryana High Court has, however, asked the state government to respond on Tuesday to a habeas corpus petition, claiming that the preacher is already in illegal police custody and should be released.
Justice N S Shekhawat held the hearing at his home-office as the courts were closed.
Police stuck to their version that the "Waris Punjab De" chief gave them the slip during a car chase in Jalandhar district on Saturday, when the crackdown against the group began. They have slapped fresh FIRs against the Khalistan sympathiser and his supporters.
Section 144 of the CrPc, which prohibits congregations, was imposed in the union territory of Chandigarh, the joint capital of Punjab and Haryana. Prohibitory orders were already in force in some parts of Punjab.
Police recovered a second vehicle in the case, an abandoned pick-up with a gun, a sword and several cartridges in Jalandhar district's Salema village and said it appeared to be a part of Amritpal Singh's cavalcade.
The crackdown has come weeks after Singh and his supporters barged into the Ajnala police station near Amritsar, extracting an assurance that an arrested man would be released.
Twenty-one Amritpal supporters were taken into custody near Boparai Kalan in Jalandhar district when they tried to stage a 'dharna' over the previous days' action.
These detentions are apparently not part of the arrests' tally given by police 78 on Saturday and 34 more on Sunday. Earlier, police said nine firearms have also been seized.
The state remained on high alert. Security forces took out flag marches at several places including Ferozepur, Bathinda, Rupnagar, Faridkot, Batala, Fazilka, Hoshiarpur, Gurdaspur, Moga and Jalandhar in a show of strength.
The Punjab government also extended the suspension of mobile internet and SMS services till Monday noon. The official order, which exempted banking services, said this was to "prevent any incitement to violence and any disturbance of peace and public order".
Four of the arrested men were brought to BJP-ruled Assam's Dibrugarh by a 27-member Punjab Police team accompanying them, according to an Assam Police officer.
The men, now lodged in Dibrugarh Central Jail, were identified as alleged fund raiser Daljit Singh Kalsi, Bhagwant Singh, Gurmeet Singh and Pradhanmantri' Bajeka.
"Sometimes persons arrested in one state are sent to another state's jail," Assam Chief Minister Himanta Biswa Sarma told reporters. "We will provide them all security in the jail," he said.
Punjab Chief Minister Bhagwant Mann had met Union Home Minister Amit Shah, soon after the Ajnala episode. Days earlier, Amritpal Singh had also made a veiled threat to Shah.
Security has also been tightened at Amritpal's native village Jallupur Khera in Amritsar, where his father Tarsem Singh said his son may have already been detained by police.
"He faces a threat to life," the fugitive's father said. "There is no information since yesterday. We feel he has already been detained."
Inspector General of Police Sukhchain Singh Gill said Amritpal Singh is still absconding.
"Whatever the Punjab Police does in this case will be within the ambit of law. Everybody has a legal right and can avail whatever remedies are available under the law."
He said police have acted in a transparent manner and Amritpal Singh was seen escaping at the "naka" laid for him in Mehatpur.
Jalandhar Police Commissioner Kuldeep Singh Chahal called it a game of "chor-sipahi" (robbers and cops).
"Sometimes, they manage to escape. But we will soon arrest him," he said, maintaining that there was no lapse on Saturday.
The officer said Singh's vehicle was chased for 20 to 25 kilometres. There were narrow streets and "somehow he managed to escape by changing his vehicle".
Police have now registered an FIR against Amritpal Singh and his supporters for breaking through a police checkpoint and another related to the recovery of a firearm in the vehicle found in a Jalandhar village.
Amritsar Rural Senior Superintendent of Police Satinder Singh said another FIR was registered Saturday night under the Arms Act after the arrest of seven of the preacher's associates in that district.
Police warned that strict action will be taken against anyone spreading rumours, saying it was monitoring fake news and hate speeches from different countries, states and cities.
The crackdown follows the FIR registered a day after the storming of the Ajnala police station on February 23.
The preacher and his supporters were accused of spreading disharmony, attempt to murder, attacking police personnel and obstructing public servants in discharge of their duties.
Six police personnel, including a superintendent of police, were injured in Ajnala.
Opposition parties had flagged the incident as a sign of the Aadm Aadmi Party government's failure to maintain law and order and expressed fears that Punjab could slide back to the days of Khalistan militancy.
Dubai-returned Amritpal became the head of 'Waris Punjab De', which was founded by actor and activist Deep Sidhu who died in a road accident in February last year.