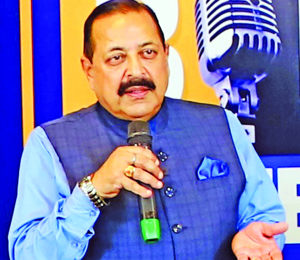 STATE TIMES NEWS
New Delhi: The change in Jammu and Kashmir over the past few years has raised the confidence of the film industry, which is now keen to make the Valley a prized location for movie making, Union Minister Jitendra Singh said on Sunday.
Singh, the Minister of State in the Prime Minister's Office, said Jammu and Kashmir's return to normalcy has led to an increase in tourism, which also has had an effect on film-making in the Valley.
The G20 meeting in Srinagar, beginning on Monday, has a session on Film Tourism for Economic Growth, he said.
"The very fact that the G20 is being held here (Srinagar) is itself an indication of the change that has happened over the last few years, particularly, following the pathbreaking and very decisive initiatives taken by Prime Minister Narendra Modi," Singh told PTI in a video interview.
Singh said shooting a film at a tulip garden in Holland would not be the same as filming at a tulip garden in Kashmir as the costs would be much lower here.
"In Kashmir, within a radius of a few kilometres, you have fountains, lakes, plateaus, hillocks, snow-clad peaks. I am sure this is going to open up. The confidence building has also happened because of the very successful tourist season we had recently," Singh said.
He said Kashmir was one of the favourite destinations for Bollywood post-Independence.
"It had a versatility of locations and was very cost effective. There were a series of movies which were shot in Kashmir. Then suddenly everything came to halt in 1990. Those movies which were in the midst of production actually had difficulty in finding alternate locations," he recalled.
"A few years ago, it was almost a taboo visiting Kashmir. Such kinds of events had virtually come to a halt since 1990," he said.
Recently, film star Shah Rukh Khan was in the Kashmir Valley to shoot for "Dunki", directed by Rajkumar Hirani.