Workshop on strengthening Child Protection System & Mechanism in UT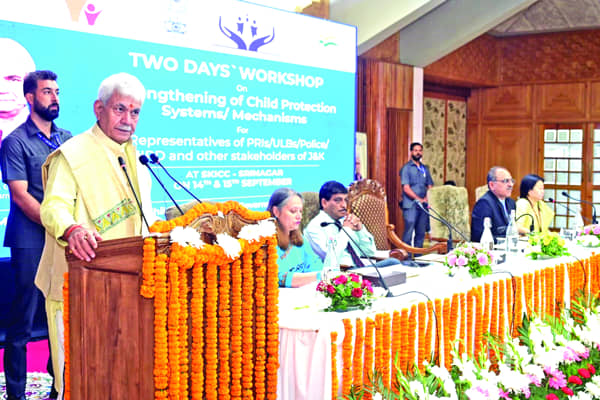 STATE TIMES NEWS
SRINAGAR: Observing that adolescent drug abuse is one of the major areas of concern, Lieutenant Governor Manoj Sinha on Thursday said that we have adopted zero tolerance policy against drugs and it is our collective responsibility to raise awareness and strengthen action to realize the vision of drug-free Jammu and Kashmir.
"The government has taken several rehabilitation and child care initiatives, and adoption through joint effort of Central Adoption Resource Authority (CARA) and State Adoption Resource Agency (SARA) has started that will promote family-based non-institutional care of children", the Lieutenant Governor said at the inaugural session of the two-day workshop for Sensitization/Training programmes for representatives of PRIs, ULBs, Police and other stakeholders to strengthen the Child Protection System and Mechanism in the UT of Jammu Kashmir.
He highlighted the need to provide homes to the children living in institutional care and in street situation.
"I believe childhood blossoms in a vibrant environment of home, hence institutional care should be the last option," the Lt Governor said.
Sinha called upon public representatives, NGOs, community elders, religious leaders and youth clubs to join the fight against the drug menace.
The Lt Governor expressed gratitude to the Ministry of Women and Child Development and lauded the Social Welfare Department for its innovative initiative which aims to organise training programme for 15,000 persons in 2023-24.
This is the first such campaign organised by the Women and Child Development Ministry, Government of India in the country.
He said the training programme is the testimony to the commitment of the UT Administration to secure a blissful childhood and to ensure a supportive ecosystem for children which enables them to realize their true potential.
On the occasion, the Lt Governor asked the officials of the central government to consider the establishment of Vatsalya Sadan one each in Jammu and Srinagar.
Dr Arun Kumar Mehta, Chief Secretary J&K; Sanjeev Kumar Chadha, Additional Secretary, Ministry of Women & Child Development; Indra Mallo, Joint Secretary, Ministry of Women & Child Development; Sheetal Nanda, Commissioner Secretary Social Welfare Department and senior officers from Central Government and UT Administration were present.
The inaugural session was attended by PRIs and ULB members, Police officials; Resource persons, representatives of Juvenile Justice Board, Judiciary, NGOs and other stakeholders.