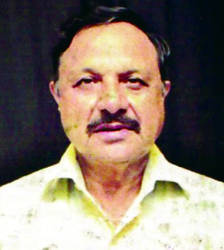 DAYA SAGAR
It has been on the second day of the special session of Parliament of India ( 18th to 22nd September 2023) that Prime Minister of India travelled on foot from the existing old Parliament House to the newly constructed Parliament House along with a copy of Constitution of India with all members of Parliament travelling along . Lok Sabha Speaker Om Birla also walked to the new Parliament separately. Congress leader in the Lok Sabha Adhir Ranjan Chowdhury also entered the new Parliament house holding a copy of Constitution of India along with Rahul Gandhi and several other opposition leaders.
Union Minister of Law and Justice Mr. Arjun Ram Meghwal became the first to introduce a constitution amendment bill in Lok Sabha ( in New Parliament House ) on 19092023 itself that happened to also be an auspicious parv of the Shri Ganesh Chaturthi. The Constitution (One Hundred and Twenty Eighth Amendment) Bill, 2023., which envisaged reserving one-third of the seats in Lok Sabha inserting Art330A after 330 concerning SC/ST ) , State assemblies ( inserting Art332A after Art 332 concerning SC/ST ) and Legislative Assembly of NCT Delhi (amending after sub clause – b of Clause – 2 of Art 239AA by inserting ba, bb ) for women. The bill once passed was to take the number of women MPs in the Lok Sabha, as per its present strength of 543, to atleast 181. The current Lok Sabha has 82 women MPs only .
Describing the bill as Narishakti Vandan Adhiniyam. Modi made an impassioned plea to both houses for unanimously approving the said women's reservation billdebate on which was to start in Lok Sabha on 20th September ( Wednesday ). .
Earlier to that, Prime Minister had told the Lok Sabha that his government wants more and more women to join the development process of the country for that the work of giving power to women to carry many noble works, God has chosen 'him' and the date of September 19 is going to be etched in history.
Modi called on MPs to forget all past bitterness and start a new chapter, asserting that whatever they are going to do in the new Parliament complex should be an inspiration for every citizen of the country.
Modi also named the ninety six year old Parliament House as Sambhidhan Bhawan .
Surely the reservation of seats for woman in "Legislature" was going to be a very welcome and pious act .So it was expected from one an all in the parliament to not drag this issue into contesting political overtones.
No doubt no any party in principle opposed in the reservation of seats for woman in the Lok Sabha and State Legislative Assemblies/ NCT Delhi Assembly but a good number of MPs ( 'all' from opposition) questioned as regards (i) the timing for introduction of the bill ( by calling a special session and that too before 2024 Lok Sabha Elections when appointed date for effect of reservations was to be much beyond 2024) , (ii) the bill covering only schedule caste & schedule tribe woman and not OBC , (iii) some even demanding reservations for religious minorities , (iv) some members have even suggested to include reservations in Rajay Sabha and Legislative councils as well ( where ever they exist ), (v) some for the bill not covering UTs like J&K and (vi) for the likely uncertain appointed date which is linked with fresh delimitation ( Inserting Art-334A after Art-334 which lays down for delimitation exercise of seats based on the data of first census taken up after the commencement of The Constitution (One Hundred and Twenty Eighth Amendment) Bill after getting passed and taking effect as an Act 2023 . Otherwise also there may also be felt a need by Parliament for reworking on the total number of seats in parliament based on the increased population status after first census data after 2026 is known since earlier numbers ( maximum 550 in Lok Sabha) had been based on 1971 census , so there would be need to amend Art-81 and Art – 82 also at some later date. Last census was in 2021 for which figures are not made public yet and next census will be in 2031).
Sonia Gandhi while speaking in Lok Sabha on 20th September (Wednesday) though had expressed full support of his party to reservation s for woman in legislature claiming that government lead by her party had also introduced the bill for women reservation but the process could not be completed due other parties not supporting but had also among other things particularly suggested that government should include OBC women reservation also in the bill and also atleast make suitable provisions for making the reservation law effective immediately (maybe she meant before 2024 Lok Sabha elections ).
Whereas the NDA leaders have claimed the honors for being the first to go for making provisions for reservation of seats for woman in union and state Legislatures.
Of course there have been 'common man' expectations for starting work in the New Parliament house building with new approach and without any bitterness as also requested by Prime Minister Narendra Modi but inspite of almost all in principle supporting the reservations for woman still there have been frictional utterances during debates from both sides which may have disappointed many .
Lok Sabha 'unanimously' ( 454 vs 2) passed the bill on 20 Sept 2023 without making any room for the proposed amendments by opposition like including OBC in the scope of reservations and giving the bill immediate effect which has given an opportunity to the opposition benches to accuse the present government of having no real commitment for reservation of seats for woman claiming that the provision when created will take atleast 10 before the women enter the LEGISLTURE against reserved seats. Rajya Sabha debated the bill on 21st September and there too the bill was passed unanimously ( 214 vs 0 ) without considering the suggestions favourably which were no different than which were made in Lok Sabha.
No doubt many people were hoping that the reference bill will be passed unanimously and put in practice before 2024 but that has not happen though the bill has been passed unanimously in both houses.
So atleast subject of reservations for OBC in legislature and immediate start of provisions created for women reservations will remain issues of conflict , irritation and political overtones that will be aired now onwards till 2024 Lok Sabha polls by the opposition parties. The ruling alliance has not accepted such suggestion and may have logics to justify that. Giving a detailed break-up, Home Minister has been quoted as having informed that 85 BJP MPs, 29% of its total, were OBCs and , 29 Ministers were also from backward communities.Trinamool Congress MPs opined that TMC has nine women MPs in Lok Sabha, which is around 40 percent of their total strength of 23 MPs and in the 2019 Lok Sabha polls, the TMC gave tickets to 17 women out of 42 Lok Sabha seats (nearly 40 percent ) in West Bengal
Rahul Gandhi has on the other hand said that out of 90 Union Secretaries only 3 are from OB. No doubt the reservations for OBC in Legislature can be made with vote strength in Parliament and that the opposition does not have numbers Similarly making amendments in constitution to incorporate provisions for implementation of 33 % immediately ( say before 2024 elections) is possible only by majority in Parliament.
So opposition parties should not outside raise questions on the intentions of BJP lead NDA government since that would only the mental peace of common people.
Hence the opposition parties who are far immediate start of the process of reserved constituencies for woman at their own level may make provisions in their party constitutions for giving 33 percent tickets for contesting Lok Sabha / Legislative assembly elections to only woman candidates to take their message to voter citizens. Ofcourse the political parties who are true to what they have been suggesting can still ensure that they give 1/3rdtickets to women candidates against 'winnable' seats in 2024 elections like Trimool Congress has claimed that more than 1/3rd of their MPs in present Lok Sabha are woman.
(The author is Sr Journalist, social activist and analyst J&K affairs dayasagr45@yahoo.com)