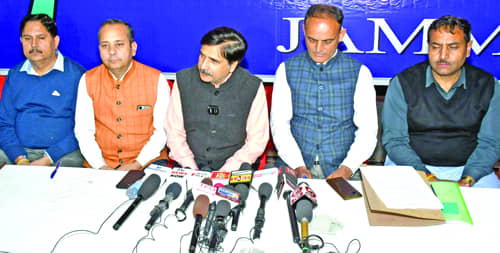 Visiting teams laud organisers for superb arrangements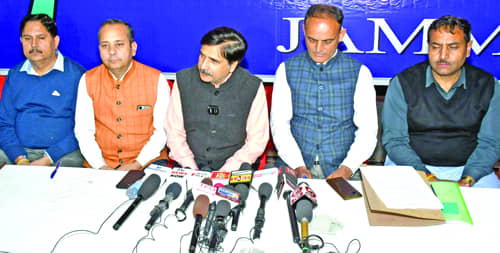 STATE TIMES NEWS
JAMMU: Jammu and Kashmir Department of Youth Services and Sports (DYSS) has geared up to host the National School Games in the discipline of Judo and Fencing from tomorrow.
Sharing the details to the media persons here at a press conference on Tuesday evening, flanked by other officials, Director J&K DYSS, Subash Chander Chibber said that it is proud moment for Jammu and Kashmir to host 67th National School Games in the disciplines of Judo (U-14 boys and girls) and Fencing (U-19 boys and girls) from November 15 to 24 here at Gymnasium Hall, University of Jammu.
Joint Director Youth Services and Sports (J), Suram Chand Sharma, Deputy Director Youth Services and Sports (C), Jitender Mishra, Deputy Director Youth Services Sports, Planning, Ravi Kumar, Accounts Officer of the Directorate, Sunil Kumar and Section Officer of Directorate, Shivnandan Singh Mankotia were also present on the occasion.
"All the requisite arrangements for smooth and successful conduct of these games have been made and various committees have been framed for holding the event in a most befitting manner," said Chibber.
He said that the Judo events will commence from November 15 and will conclude on November 19 while the Fencing tournament will begin from November 20 and culminate on November 24.
"The prolonged Coaching Camps in Judo and Fencing are going on in Jammu and the Department is hoping to win a good haul of medals in both the disciplines," said Chibber.
He said the Department felt honoured to inform that it had recently organised the 67th National School Games in the disciplines of Football and Volleyball at Srinagar, wherein J&K created history to emerge champion in Football and clinched gold, besides bagging bronze medal in Volleyball.
He said for comfort of the athletes and good health of this prestigious event, the players have been lodged at Saraswati Dham and Kalka Dham, nearby to the University of Jammu, the venue of the events.
Emerging champions in Football and winning third place in Volleyball at Srinagar was an outcome of rigorous training of athletes and transparency and fairness in the selection process.
As many as 30 teams of various States/UTs drawn from across the country to take part in this sporting extravaganza, he added.
However, Chibber also interacted with the participants and the officials of the arrived teams to get first hand information about the arrangements.
The visiting teams lauded the organisers for the boarding and lodging arrangements besides medical facilities, which were made available at all the venues.
Chef the Mission of Haryana contingent, Ramesh Chahal said that out of his experience of a galaxy of National and International events, it was for the first time he had observed such wonderful boarding, lodging, food, mrdical and transportation facilities.
Managers of Manipur and Rajasthan contingents were all praise for the organisers for providing them fantastic medical and allied facilities.