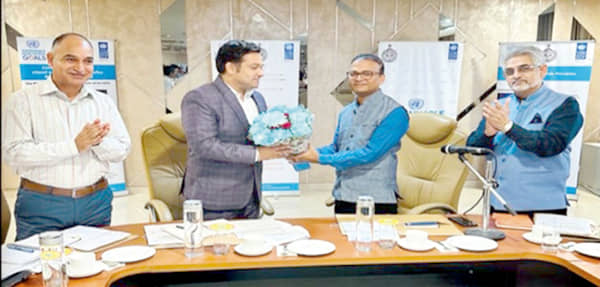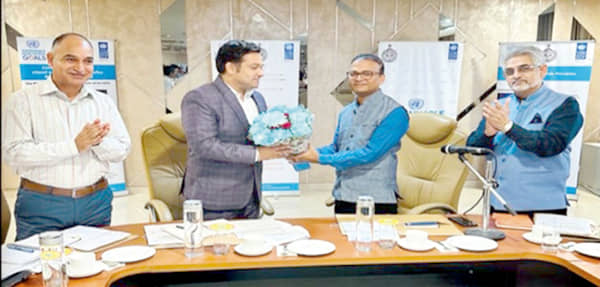 STATE TIMES NEWS
JAMMU: A Two day Knowledge Sharing Workshop on Sustainable Development Goals (SDGs) was held on Tuesday between the officers of Jammu & Kashmir and Haryana Governments.
The event was organized by the Government of Haryana in collaboration with United Nations Development Programme (UNDP).
Secretary, Planning Development and Monitoring Department, Dr. Piyush Singla, headed the Jammu and Kashmir team while Haryana Government team was led by Director, Swarna Jayanti Haryana Institute for Fiscal Management (SJHIFM), Pankaj.
The officers of Planning Department, Finance Department, NIC J&K and UNDP, SDGCC J&K and officers of Haryana Government from Finance, Planning and SJHIFM participated in the workshop.
The workshop aimed at fostering a deeper understanding of Sustainable Development Goals (SDGs) besides sharing best practices in the realm of governance.
The objective of this learning visit included engaging in discussions to share insights and best practices related to progress of SDGs, opportunity to learn about the impactful tools and systems developed by the UNDP and Sustainable Development Goal Coordination Centre (SDGCC) Haryana, contributing towards realization of Vision 2030 and introduction to various innovative schemes and interventions being implemented in Haryana.
The workshop featured prominent speakers, including Director of Swarna Jayanti Haryana Institute for Fiscal Management who highlighted Haryana's remarkable achievements in the context of SDGs and Output-Outcome Framework (OOMF) Documentation/Reports. He emphasized that Haryana is among the few states that publish Output-Outcome Framework Reports and lauded the technical partnership with UNDP, which is propelling Haryana into a leadership role for SDGs.
Dr Piyush Singla highlighted that J&K Government is making various reforms and interventions which had enabled it to be at par with regard to digitization and transparency viz-a-viz out reach to the common masses. He expressed keen interest in replicating Haryana's best practices in J&K so that further headway can be made in various governance initiatives which will help to achieve SDG Goals much earlier and J&K can further focus on SDG plus.
During the first day of the workshop, the participants delved into several critical topics, such as the progress of SDGs in Haryana, progress of SDGs and achievements in J&K and new initiative of establishment of UNDP, SDGCC-J&K.
The presentations were made by Scientist F, NIC, J&K and Joint Director PD&MD on behalf of J&K while as Regional Head North Region UNDP and various officers from Haryana made the presentation. The BEAMS portal, utilized for SDG progress tracking, garnered praise for its effectiveness.
A key objective set during the workshop was the alignment of BEAMS Portal with the SDGs, reflecting a commitment to integrate portal functionality with the SDG framework. Creating awareness about the SDG's and popularising it among the administration and down below was a new role assigned to newly established UNDP, SDGCC-J&K. Acting as a strong campaigner for enhancing the center's social media presence was recognized as pivotal to reaching a wider audience effectively. This also included launch of the newly created Micro-site on SDG's.
The second day of the workshop featured a knowledge-sharing session on implementing innovative tools and ideas, led by the Joint Director (SBFM). Kulwant Khullar, Administrative Officer, presented the "Haryana Parivar Suraksha Nyas" scheme, which consolidates beneficiaries of government insurance schemes, enhancing efficiency and cost savings. A constructive exchange between state officials from Jammu & Kashmir and Haryana facilitated insights into effective governance practices and challenges in program implementation.
The workshop served as an important platform for cross-state collaboration and learning, ultimately contributing to the broader objectives of sustainable development and good governance.
The workshop has given way ahead to interlink SDG's with budget and OOMF. The exercise is lengthy as OOMF framework will have to be developed for all the schemes/ activities/works being implemented in J&K which will further help interlinking these schemes with the SDG's Goals/ Targets/ Indicators.
SDG CC of J&K shall undertake the exercise, in this regard, which will help to replicate the system in Jammu and Kashmir.