New Delhi: The Uttarakhand government Thursday told the Delhi High Court that authorities are rehabilitating families affected due to land subsidence in Joshimath, and that the National Disaster Response Force and State Disaster Response Force have been deployed in the area.
The state government said a rehabilitation package is also being prepared and a lot of relief work is going on.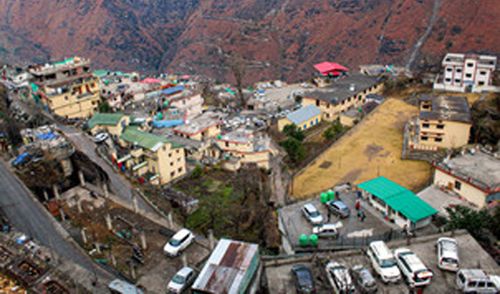 The submission was made before a bench of Chief Justice Satish Chandra Sharma and Justice Subramonium Prasad which was hearing a petition seeking to direct the Centre to constitute a committee headed by a retired judge to look into the issue of the sinking of Joshimath and rehabilitate the affected families soon.
The high court was informed by the petitioner and advocate Rohit Dandriyal that a similar petition on the issue has also been filed in the Supreme Court which is likely to hear it on January 16.
The bench listed the petition for further hearing on February 3.
During the hearing, Deputy Advocate General for Uttarakhand J K Sethi submitted that the government has already deployed NDRF and SDRF there and many people have been relocated.
He said when the similar plea was mentioned before the apex court, it had said that there are democratic elected representatives who are looking into the issue.
"We are rehabilitating the people. Giving them relief packages. A lot of work is going on," he said, adding that the issue relates to Uttarakhand and the petitioner should have filed the petition before the Uttarakhand High Court.
The high court had earlier asked the petitioner to find out and inform it about the pendency of a similar issue before the Supreme Court.
Cracks have appeared in hundreds of houses of Joshimath, the gateway to some renowned pilgrimage sites, including Badrinath, Hemkund Sahib and the international skiing destination Auli.
Highlighting the problems of over 3000 people of Joshimath, the plea before the high court has said that cracks have developed in at least 570 houses due to continued land subsidence.
The petitioner has claimed that the construction activities done by the Ministries of Road Transport and Highways and Power, New and Renewable Energy, in the town of Joshimath in past years have worked as catalyst in the present scenario and they have violated the fundament rights of the residents there.
"The respondent no.1 (Ministry of Road Transport and Highways) invested Rs 12,000 crore in the programme for connectivity improvement for Char-Dham (Kedarnath, Badrinath, Yamunothri and Gangothri) in Uttarakhand," the petition has said.
The plea has said that the Ministry of Power has also invested Rs 2976.5 crore through the NTPC and started constructing Tapovan Vishnugad power plant in 2013 for 520MW Power run-of-river project which is under construction on Dhauliganga River in Chamoli District of Uttarakhand.
It has sought to direct the authorities to constitute a high power joint committee under the chairmanship of a retired judge of the high court and representatives of all relevant ministries to inspect the affected areas and look into the issue and rehabilitate the affected people. (PTI)