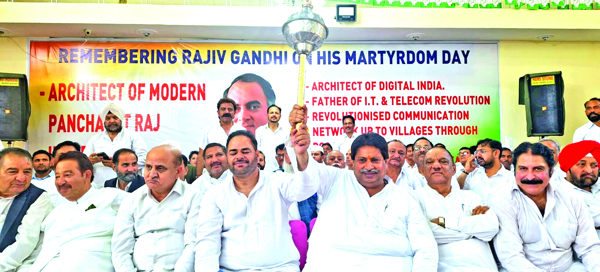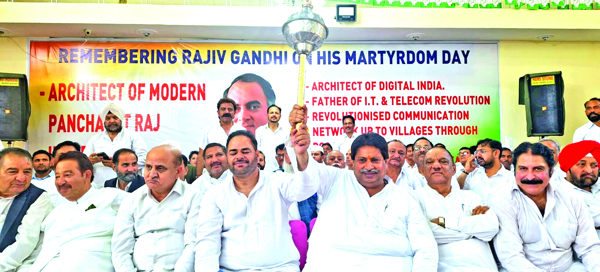 STATE TIMES NEWS
JAMMU: Paying Rich tributes to former Prime Minister Rajiv Gandhi on his 32nd martyrdom day in an impressive function held here on Sunday at Mahajan Hall Shalamar Road Jammu, Congress launched its campaign for the forthcoming PRI elections in the UT, describing Rajiv Gandhi as the architect of Panchayat Raj in the country.
Hundreds of representatives from Panchayats and Urban Bodies and all senior leaders of the party including former Ministers, Former Legislators, DCC Presidents, Corporators, Councilors, DDCs and BDCs, Frontal Wings, Blocks and Wards Presidents attended the function which was chaired by President JKPCC Vikar Rasool Wani, and attended by Working President Raman Bhalla, former Dy CM Tara Chand, former PCC President Peerzada Mohd Sayeed, former Minister Mula Ram, G.N. Monga(EX-MLC), T.S. Bajwa (EX-MP), Kanta Bhan, Yogesh Sawhney(Ex-Minister, Ravinder Sharma (Ex-MLC), Manmohan Singh, Rajnish Sharma and others.
Vikar Rasool recalled the services of Rajiv Gandhi as the youngest Prime Minister who gave the vision to the youth of the Country of the challenges of the 21st Century and brought IT and Telecom revolution, lowered the voting age to 18 years to empower the youths.
Launching the party's campaign for the forthcoming PRI elections in J&K, he exhorted the Party workers to gear up for the Panchayat and ULB elections, as the winds of change have started in the country from Karnataka following the successful Bharat Jodo Yatra led by Rahul Gandhi.
Bhalla paid rich tributes to the former Prime Minister who sacrificed his life for the nation. He brought about tremendous revolutions in the IT and Telecom sector , gave youths the voting right at 18 years, and revolutionized the Panchayat Raj system in the country.
He said that Panchayats are the backbone of the democracy which is the gift of Rajiv Gandhi to the people and the party shall win the next Panchayats and Local Bodies elections in the UT and asked the party workers to launch a vigorous campaign for the same from today onwards.
Mula Ram paid tributes to Rajiv Gandhi who revolutionized the IT and Telecom sector giving lot of employment in the country and transforming the life of the people.
All District Presidents and senior leaders, frontal heads, several representatives of Panchayat and urban bodies spoke on the occasion and paid rich tributes to Rajiv Gandhi recalling his role to establish the present Panchayat Raj in the country.